One of the most important activities of the Nordic Volcanology Center is the research fellow program. Every year five young Scandinavian geoscientists are invited to do a research project in Iceland.
In 2016 - 2017 the following research fellows with the projects have been appointed:
| | | |
| --- | --- | --- |
| Name | Postition | E-mail |
| Barbara Keine | NordVulk fellow / Post Doc | |
| Dharmindar Maharaj | NordVulk fellow / PhD student | |
| Maria H. Janebo | NordVulk fellow / Post Doc | |
| Paavo Nikkola | NordVulk fellow / PhD student | |
| Talfan Donald Barnie | NordVulk fellow / Post Doc | |
| Niels Jakup Korsgaard | Nordvulk fellow / Post doc | |
Barbara Keine
In my NordVulk project I will make an attempt to unravel the role of fluids in contact metamorphic settings. Magma intruded in to the crust interacts with the surrounding ground water systems resulting in formation of hydrothermal fluids commonly of meteoric or seawater origin. Such interaction may lead to contact metamorphism and elemental transport with elemental and isotope gradients from mantle to surface sources. Recent work suggests that the surface fluids may be a key part of the metamorphism to high temperatures (450-600°C), suggesting that classical contact metamorphic reactions (crustal hornfels) may be a result of magma-hydrothermal fluid interaction rather than magma-magmatic fluid interaction. 
The aim is using stable isotopes (hydrogen, oxygen and silicon) to trace these contact metamorphic processes by using natural analogues from fossil magma chambers/geothermal systems of eastern Iceland and comparison with xenolithic material in the Askja 1875 eruption.

Dharmindar Maharaj
Title of my project: Studying the tectonic structure at the termination of the Reykjanes Ridge
The Bight Transform Fault (BTF) is the first active transform fault south of Iceland along the Mid Atlantic Ridge (MAR) and marks the termination of the Reykjanes Ridge. Immediately south of the BTF the MAR is characterised by asymmetric spreading and chains of off rift volcanoes. In this project magnetic field data is being converted in a heat flow map, and this together with potential field modelling of magnetic and gravity data, will be used to study the tectonic settings at the termination of the Reykjanes Ridge. 

Paavo Nikkola
Background
I am a young Finnish geologist with a background is in economic geology and geochronology. I got my Master's degree in geology from the University of Helsinki in summer 2014, and my M.Sc. project was an in–situ U–Pb dating focused to the Juomasuo gold deposit, one of the prime gold showings in Eastern Finland. For an unknown reason, the hundreds of hours of sample preparation and the tedious data analysis related to my M.Sc. thesis just enhanced my interests towards geochronology. Partly because of that, during the busiest time of my thesis work, I found myself applying for the Nordvulk fellowship program.
Research project
Currently, as a Nordvulk fellow, I am working in a research project aiming to date Plio–Pleistocene to Pleistocene basaltic lava flows in Reykjanes peninsula and in Greater Reykjavik area. These interglacial lava flows are relatively young and low in potassium, which makes them difficult to date by isotopic dating methods. The plan is to overcome the problem of low K by looking into basaltic melt segregations within the lava flows. Melt segregations are a common feature in pahoehoe lavas, and they are produced by 40–60 % fractional crystallization of the host lavas during the lava emplacement. Because melt segregations are enriched in potassium, properly prepared samples of them could theoretically give high quality 40Ar*/39Ar –ages resembling the age of the lava flows. If providing positive outcomes, our method of dating could be applied to reconstruct a complete volcanic history of the area.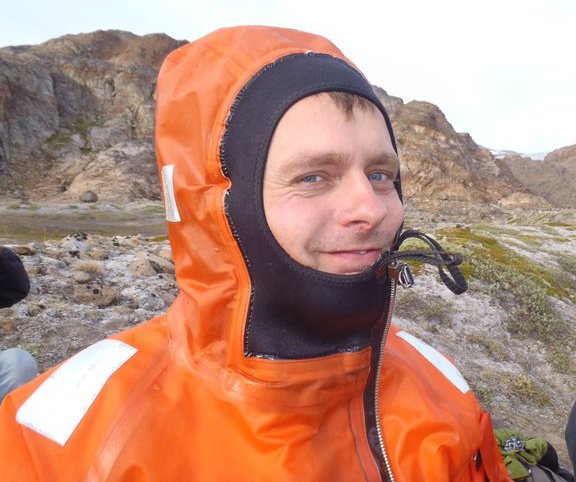 Niels Jakup Korsgaard
Reconstructing past environmental changes and volcanic activity with tephrochronology and stratigraphy of lake sediments from the southern central highlands of Iceland
Korsgaard, NJ1, Benediktsson, IÖ2, Gudmundsdottir, ER1,2 & Schomacker, A3.
1 Nordic Volcanological Center, Institute of Earth Sciences, University of Iceland
2 Institute of Earth Sciences, University of Iceland, Iceland
3 Department of Geology, UiT the Arctic University of Norway, Norway
Lake sediments are reliable archives for local and regional past environmental changes as they offer a wide variety of proxies that can be studied in lake sediment cores. In Iceland, tephra layers play a key role in the study of lake sediments where they serve as a powerful dating tool as well as recording past volcanic activity.
The objective of this project is to shed light on explosive volcanic activity and glacier dynamics in the central highlands of Iceland by investigating sediment cores from lakes on a NE-SW transect south of the Hofsjökull ice cap and Mt. Kerlingarfjöll. The main focus of the project will be on tephrostratigraphy and –chronology involving the documentation of core stratigraphy as well as sampling and chemical analysis of tephra layers.
The project will be central to the work of reconstructing past volcanic activity, glacier dynamics and environmental changes in the study area.
Current/ongoing projects:
* Reconstructing past environmental changes and volcanic activity with tephrochronology and stratigraphy of lake sediments from the southern central highlands of Iceland
* AirBase - A database of 160,000 aerial photos of Greenland 1930-1980s